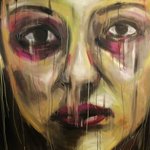 Jenny Beard
I'm a freelance artist, working primarily in oils and ink. In my paintings I like to explore perceptions and distortion, the divide between the subject and the representation of it. In my drawings I focus on symbolism, composition and ink techniques. I have a tumblr too: gothikkka.tumblr.con Jenny Beard joined Society6 on September 16, 2012
More
I'm a freelance artist, working primarily in oils and ink. In my paintings I like to explore perceptions and distortion, the divide between the subject and the representation of it. In my drawings I focus on symbolism, composition and ink techniques.
I have a tumblr too: gothikkka.tumblr.con
Jenny Beard joined Society6 on September 16, 2012.
Jenny Beard's Store
27 results
Filter