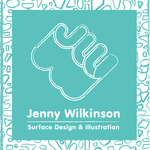 Jenny Wilkinson
Jenny Wilkinson is an independent designer, who specialises in surface design. Her portfolio of work includes wallpaper and textile design. Jenny's Wallpaper-By-Numbers range can be found here on Society 6 along with a colourful range of prints and patterns. The wallpaper and its number guides allow you to choose whether to colour a small section, the whole thing or just leave it blank. Her outline and semi completed paint by numbers designs can now be find on a number of different surfaces including ceramics, stationary, fabrics & prints. www.jennywilkinson.com jenny@jennywilkinson.com Jenny Wilkinson joined Society6 on April 12, 2012
More
Jenny Wilkinson is an independent designer, who specialises in surface design. Her portfolio of work includes wallpaper and textile design.
Jenny's Wallpaper-By-Numbers range can be found here on Society 6 along with a colourful range of prints and patterns. The wallpaper and its number guides allow you to choose whether to colour a small section, the whole thing or just leave it blank. Her outline and semi completed paint by numbers designs can now be find on a number of different surfaces including ceramics, stationary, fabrics & prints.
www.jennywilkinson.com jenny@jennywilkinson.com
Jenny Wilkinson joined Society6 on April 12, 2012.