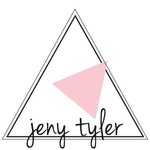 Jeny Tyler Creative • Illustration
Hello and welcome to Jeny Tyler Creative, LLC; a small creative studio located in Charleston, SC. I primarily work with small business, blogs, non-profits and franchises. Services include affordable logo design, branding, website development and illustration. I live in Charleston, SC with my nerdy husband John who I've known since our Sophomore year of high school and our two very adorable Red heads Eleanor and Myles. You can usually find me sharing works in progress on Instagram @jenypenny or building out my dream kitchen on Pinterest. I am currently accepting new design clients. Please visit my website jenytyler.com for more information. Jeny Tyler Creative • Illustration joined Society6 on August 1, 2016
More
Hello and welcome to Jeny Tyler Creative, LLC; a small creative studio located in Charleston, SC. I primarily work with small business, blogs, non-profits and franchises. Services include affordable logo design, branding, website development and illustration.
I live in Charleston, SC with my nerdy husband John who I've known since our Sophomore year of high school and our two very adorable Red heads Eleanor and Myles. You can usually find me sharing works in progress on Instagram @jenypenny or building out my dream kitchen on Pinterest.
I am currently accepting new design clients. Please visit my website jenytyler.com for more information.
Jeny Tyler Creative • Illustration joined Society6 on August 1, 2016.
Prints by Jeny Tyler Creative • Illustration
1 result
Filter