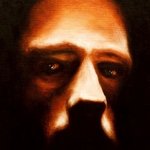 Jeroen van Valkenburg
Jeroen van Valkenburg (Leiden, The Netherlands, 1973) is inspired by ancient myths and sagas that he encountered during his study of Archaeology at the University in Leiden. Especially the stories from the Viking era (9th to 11th Century A.D.) play an important role in his works. His interest mainly lies in the religious and mystical side of the Viking culture. He tries to capture their magical and mythical atmosphere in his creations. His oil paintings can sometimes be regarded as icons of gods and goddesses long forgotten. To give his work a real ancient feel, he sometimes uses original oil-paint dating from the 17th to the 19th century. Also his own dreams are a great source of inspiration.
He never had any formal painting or art education, but studied the 17th century Dutch master painters techniques himself for many years. He now passes on his knowledge on traditional oil-painting to over 20 students. His work is mostly monochrome with a large contrast between light and dark. He uses only organic forms and shapes.
His work has been exhibited in many galleries in Holland and abroad, and is also well-known from all the book/cd/lp covers he has designed.
Read more
Jeroen van Valkenburg's Store
Filter
fd6be907-d876-44f1-8c79-72031ff6bdc8

Popular

f6366f5b-a287-4dcd-8d24-20942ab8a53c

All
Jeroen van Valkenburg's Store