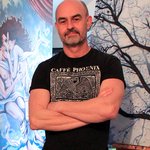 Jerry Kirk Creations
I grew up in Falls Church, Virginia, just outside of Washington, D.C. My mother claims that I was drawing before I could talk and most of my childhood was spent with pencil in hand. After High School I studied graphic design and illustration at Shepherd University in West Virginia but actually taught myself to paint at the age of 30. My early experience as an Editorial Cartoonist for a Virginia newspaper was a good introduction into the graphic process and later jobs as an Art Director for Advertising Agencies and Marketing Departments taught me the professionalism that I try to imbue my Fine Art career with.
Growing up in the frigid environs of suburbia forced me to expand my already active imagination and the ideas and thoughts that flowed were expressed through my art – mostly drawing at first. I escaped into comic books, from which I learned much about drawing and composition, and great works of fiction, which filled my head with thoughts more serious and profound. Later, after I'd escaped for real from the 'burbs and traveled around a bit, including a stint in the United States Air Force, I turned to painting as my primary means of expression.
In 1991 I moved to Charlotte, North Carolina, where my career as a Fine Artist began in earnest. I immediately fell in with a group of artists called 'The Friends of Van Gogh'. As a group we opened 2 galleries in the north side of town and over time helped to develop that area into what today is known as 'NoDa', Charlotte's premier and historic Art District.
As an Expressionist Painter I have won several awards, most notable being an Emerging Artist Grant from the Arts and Science Council of Charlotte/Mecklenburg. I also owned my own gallery for a time, 'Sanctuary Art', which was located in NoDa and won the 2003 Critics Pick for Best New Gallery in Creative Loafing Magazine. I have exhibited my work in galleries and festivals throughout the Southeast and have accumulated many patrons and collectors.
I currently work out of my home studio in South Charlotte where I live with my lovely wife Lisa and wonderful daughter, Elysia.
Read more
Jerry Kirk Creations's Store
Filter