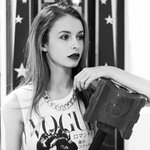 Jess Collins (Ravenpics)
Hi my name is Jess Collins and I'm an emerging Australian photographer, located in Brisbane, Queensland. I have now been photographing for about five years, and have loved every minute of it. My work consists of social Documentary, Fine Art, and some Commercial photography, Changing between the three, keeps me interested and motivated. My main focus however is always people. People are the predominant part of my work as i am fascinated and challenged by their identities and their hidden qualities. I am intrigued by how an expression or body movement can convey so my much emotion in an image, and capturing this is what motivates me to keep exploring and experimenting with my work. Jess Collins (Ravenpics) joined Society6 on February 10, 2014
More
Hi my name is Jess Collins and I'm an emerging Australian photographer, located in Brisbane, Queensland. I have now been photographing for about five years, and have loved every minute of it.
My work consists of social Documentary, Fine Art, and some Commercial photography, Changing between the three, keeps me interested and motivated. My main focus however is always people. People are the predominant part of my work as i am fascinated and challenged by their identities and their hidden qualities. I am intrigued by how an expression or body movement can convey so my much emotion in an image, and capturing this is what motivates me to keep exploring and experimenting with my work.
Jess Collins (Ravenpics) joined Society6 on February 10, 2014.
Jess Collins (Ravenpics)'s Store
74 results
Filter