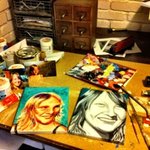 Hunt Gallery
I have been drawing since I was a kid. I love how it makes me feel like a kid still today. I love to paint people soiled and real. I aspire to tell a story with my images like Norman Rockwell. Someday I hope. Until then I practice and create.
Read more
Hunt Gallery's Store
Filter
You are currently on society6.com.