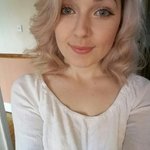 Jessalice Art
I am a designer, admirer of organic, natural forms. My practice depicts my day to day influences, through the use of preparatory methods. My appreciation for illustration has been a great influence in my practice, using the strong drawing skills that I have developed over my time at Manchester Metropolitan University, I am able to incorporate this into my work allowing me to showcasing my own personal style within a varied art form. Using a range of techniques and media, I aim to show versatility and a passion for keeping that raw hand-drawn quality within modern design. Instagram: jessalice_art Website: http://brownjessicaalice.wixsite.com/jessaliceart Jessalice Art joined Society6 on August 14, 2015
More
I am a designer, admirer of organic, natural forms. My practice depicts my day to day influences, through the use of preparatory methods. My appreciation for illustration has been a great influence in my practice, using the strong drawing skills that I have developed over my time at Manchester Metropolitan University, I am able to incorporate this into my work allowing me to showcasing my own personal style within a varied art form. Using a range of techniques and media, I aim to show versatility and a passion for keeping that raw hand-drawn quality within modern design.
Instagram: jessalice_art Website: http://brownjessicaalice.wixsite.com/jessaliceart
Jessalice Art joined Society6 on August 14, 2015.
Jessalice Art 's Store
61 results
Filter