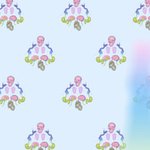 Jessica Dolence
I'm interested in digital decoration and ornamentation in relationship to CyberFeminism and virtual interior design. I design animated wallpaper that is ambient, and subversive. The wall, screen, and monitor are all habitats for my work. When projected and mapped onto a wall, the wallpaper alters space and the background becomes the subject. I'm influenced by 20th Century historic cultural trends, period film sets, and Internet sub genres like Sea Punk. Coloration and pattern design are used to talk about the spectrum of femininity.
I use 3D modeling software and After Effects to build sets and decorative architectural models to build imagery. A 3D environment, once built, provides the ability to rapidly modify materials and lifts the restrictions of reality. Time based media allows my work to live and breath. My newest body of work will continue to cross-pollinate material and concept, using projection mapping, surface design and 3D printed objects to further blur relationships between art and technology.
BIO
Jessica Dolence was born in Ohio and has lived in North Carolina, Texas, and Arizona. She received her MFA from Cranbrook Academy of Art and a BFA in Intermedia at The Herberger Institute of Design and the Arts at Arizona State University. In 2007 she was invited to exhibit at 700IS Reindeerland, an experimental video art festival in Iceland. Prior to graduate school at Cranbrook Academy of Art Jessica was a member of SOIL Gallery, an artist run space, and graphic designer for CPX International. In July 2015 her installation The Blue Room was exhibited at Interstitial Gallery in Seattle; a space dedicated to emerging media artists. In May 2016 EO1 Electric Objects will be releasing a commissioned collection of narrative video works. Her current landing place is Seattle, WA, where she lives with her studio assistant, a miniature dachshund.
Read more
Jessica Dolence's Store
Filter