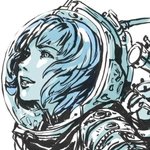 Jessica Fong
Bay Area born artist. Illustrator. Concept Artist. Creator working on indie game: Keeper and the Soldier. Lover of everything creative and crazy~
I enjoy telling narratives through my works using a variety of details, context, and symbolism. I must characterize whole stories and characters in a single image to inspire curiosity and wonder in others to learn or imagine more.
Many of my works deal with darker themes as I tend to explore emotional topics that are not talked about often. I support imaginative realism, somehow attempting to paint what can't be seen or felt in another.
Thank you for stopping by!
Tumblr: http://jessicafongarts.tumblr.com/ Facebook: https://www.facebook.com/JessicaFongArt Twitter: @anireal
Read more