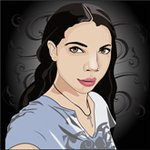 Jessica Jimerson
My name is Jessica Jimerson, I'm a Game Art and Design honor graduate degree earned at Westwood College, currently I am the Lead Artist at Panzer Gaming Studios. I also do comic colorist work for multiple companies, and I have several published books including Vampire Love, Solstice Moon, and The Pretty Red Flower, with a Single Thorn to name a few. If you would like to see more of my work or get commission details please have a look at my deviantART page and website here: http://jesshavok.deviantart.com/ http://jessicajimerson.weebly.com/ Jessica Jimerson joined Society6 on June 12, 2012
More
My name is Jessica Jimerson, I'm a Game Art and Design honor graduate degree earned at Westwood College, currently I am the Lead Artist at Panzer Gaming Studios. I also do comic colorist work for multiple companies, and I have several published books including Vampire Love, Solstice Moon, and The Pretty Red Flower, with a Single Thorn to name a few. If you would like to see more of my work or get commission details please have a look at my deviantART page and website here:
http://jesshavok.deviantart.com/
http://jessicajimerson.weebly.com/
Jessica Jimerson joined Society6 on June 12, 2012.