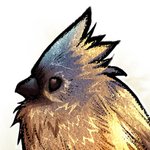 Jessica Jung
Freelance comics artist and illustrator working in France. I enjoy fantasy/ SiFi themes, video games artworks. I'm current working on a french comic project called « Les Légendaires : Parodia » with Patrick Sobral. It's about Patrick Sobral's stories and universe from « Les Légendaires » , huge and popular french heroic fantasy comic book series, published by Editions Delcourt. Website : http://jessicajung.fr/ or http://miladymorigane.com/ Facebook : https://www.facebook.com/JessicaJung.Art/ Twitter : https://twitter.com/miladymorigane Instagram : https://instagram.com/miladymorigane/ Youtube : https://www.youtube.com/channel/UCqaU4nC0_IWiN17wTOznWlA Jessica Jung joined Society6 on May 7, 2014
More
Freelance comics artist and illustrator working in France. I enjoy fantasy/ SiFi themes, video games artworks. I'm current working on a french comic project called « Les Légendaires : Parodia » with Patrick Sobral. It's about Patrick Sobral's stories and universe from « Les Légendaires » , huge and popular french heroic fantasy comic book series, published by Editions Delcourt.
Website : http://jessicajung.fr/ or http://miladymorigane.com/ Facebook : https://www.facebook.com/JessicaJung.Art/ Twitter : https://twitter.com/miladymorigane Instagram : https://instagram.com/miladymorigane/ Youtube : https://www.youtube.com/channel/UCqaU4nC0_IWiN17wTOznWlA
Jessica Jung joined Society6 on May 7, 2014.