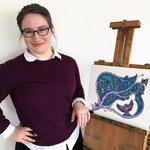 Jessica McGrath
Inspired by nature, I create whimsical, colorful landscapes filled with sweet, sad little creatures pondering their own existence. I work in mixed media, combining pen, pencil, watercolor paint and markers to create tranquil worlds for you to escape into. I also make coloring books! Check them out on Amazon: http://amzn.to/2jdyZfd Jessica McGrath joined Society6 on September 16, 2015
More
Inspired by nature, I create whimsical, colorful landscapes filled with sweet, sad little creatures pondering their own existence. I work in mixed media, combining pen, pencil, watercolor paint and markers to create tranquil worlds for you to escape into.
I also make coloring books! Check them out on Amazon: http://amzn.to/2jdyZfd
Jessica McGrath joined Society6 on September 16, 2015.