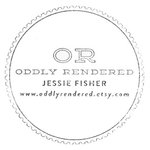 Oddly Rendered
I have an affinity for bold graphic design, a boatload of local pride and an endless sense of creative restlessness. I began making papercut wedding gifts for family and friends in 2010, and thanks to word of mouth publicity have since fulfilled over 75 orders. I use an X-Acto knife on a self-healing mat and cut all designs by hand in reverse for a cleaner appearance on the face of the piece.
Traditionally, the first anniversary is the "Paper" Anniversary, so my custom papercuts make the perfect gift. Custom orders for weddings, engagements and anniversaries usually include the location of the wedding or the hometown of the couple, their names and the wedding date. My designs have featured many hometowns and wedding venues in Maine, New Hampshire, Vermont, Massachusetts, New York, North Carolina, Florida, Colorado, Chicago, San Francisco, Seattle, Thailand, Qatar, Costa Rica, Israel and China.
You are able to further customize your piece by choosing paper color combinations. Price is determined by amount of detail involved, number of layers of paper and the amount time provided. Ideally, one month's notice is requested.
Please visit www.jessiebfisher.com to see my full portfolio and to purchase original papercuts!
Read more
Oddly Rendered's Store
Filter