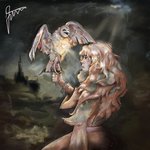 Jessie van den Akker
Hello! I'm Jessie. I'm Dutch, 16 years old and since March 2016 I'm into digital art :) Before that, I used to do traditional art and doodles in my notebooks at school :3 I'm selling my art, so it won't stay hidden somewhere on my computer and never see the daylight. Thanks in advance for your support! :) There is more art on my IG: @paper_thief_ . If you have any interest in buying something which is not uploaded on here yet, feel free to contact me :) Jessie van den Akker joined Society6 on December 28, 2016
More
Hello! I'm Jessie. I'm Dutch, 16 years old and since March 2016 I'm into digital art :) Before that, I used to do traditional art and doodles in my notebooks at school :3 I'm selling my art, so it won't stay hidden somewhere on my computer and never see the daylight.
Thanks in advance for your support! :) There is more art on my IG: @paper_thief_ . If you have any interest in buying something which is not uploaded on here yet, feel free to contact me :)
Jessie van den Akker joined Society6 on December 28, 2016.
Jessie van den Akker's Store
15 results
Filter