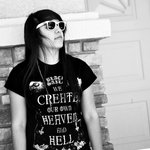 JessShootMe
Just a kid with a camera, well I'm 20, but hey! Currently trying to build myself up to become a live music photographer while taking other portraits, landscapes, street, action, and creative photographs. As well as a graphic designer with a taste for screen/silk printing. JessShootMe joined Society6 on March 4, 2014
More
Just a kid with a camera, well I'm 20, but hey!
Currently trying to build myself up to become a live music photographer while taking other portraits, landscapes, street, action, and creative photographs. As well as a graphic designer with a taste for screen/silk printing.
JessShootMe joined Society6 on March 4, 2014.
JessShootMe's Store
10 results
Filter