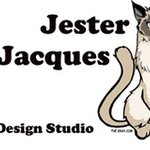 Jester Jacques Art
Jester Jacques Art runs Trend Watch Blog and a regularly updated Online Shop that sells Originals and Prints. We are actively creating new digital and mixed media designs as a side project. With skulls, butterflies, vintage and retro images, we aim to make versatile, easy to hang and wear visuals that express our love of to-the-point, trending art. All started from hand made paintings, collage and mixed media on paper, we make them digitally pop and create exciting compositions. The blog highlights street artists and visual artists from around the world. It includes exhibition coverage and artist interviews. We also cover trends in design and fashion. We also cover local Shoreditch art and exhibitions. BRINGING YOU THE BEST ARTISTS & ART NEWS FROM ALL AROUND THE WORLD. HOP PRESS & CONTACT: Jester Jacques Art has been described by Art Lyst as "signal(ling) growth for Shoreditch art scene" and by Soapbox Press as "one step ahead of the rest." Advertising Week said "JJ are always eager to get involved with the current trends, which allows them to deliver the best and most fresh work to the public" and Eagle Apartments said "Wow guests to your Eagle apartment with a statement piece from Jester Jacques." Co owner Karen Shidlo has written for and featured on Flux Magazine, Made in Shoreditch, Advertising Week Social Club, Let's Be Brief, Fat Cap and De Dominicis Agency . She has also been interviewed by Art Pro Motivate, London Art Net, Trebuchet Magazine and Artsy Shark and featured on Investors Mag. For General Enquiries and Customer Service please email info@jesterjacquesgallery.co.uk Jester Jacques began as a gallery, exhibiting in London throughout 2013, with a Pop Up at Box Park, Shoreditch, a booth at the Other Art Fair in London and a successful inaugural exhibition in East London. http://www.jesterjacquesart.co.uk/ http://www.facebook.com/jesterjacquesart Jester Jacques Art joined Society6 on November 19, 2013
More
Jester Jacques Art runs Trend Watch Blog and a regularly updated Online Shop that sells Originals and Prints. We are actively creating new digital and mixed media designs as a side project.
With skulls, butterflies, vintage and retro images, we aim to make versatile, easy to hang and wear visuals that express our love of to-the-point, trending art. All started from hand made paintings, collage and mixed media on paper, we make them digitally pop and create exciting compositions.
The blog highlights street artists and visual artists from around the world. It includes exhibition coverage and artist interviews. We also cover trends in design and fashion. We also cover local Shoreditch art and exhibitions. BRINGING YOU THE BEST ARTISTS & ART NEWS FROM ALL AROUND THE WORLD. HOP PRESS & CONTACT:
Jester Jacques Art has been described by Art Lyst as "signal(ling) growth for Shoreditch art scene" and by Soapbox Press as "one step ahead of the rest." Advertising Week said "JJ are always eager to get involved with the current trends, which allows them to deliver the best and most fresh work to the public" and Eagle Apartments said "Wow guests to your Eagle apartment with a statement piece from Jester Jacques."
Co owner Karen Shidlo has written for and featured on Flux Magazine, Made in Shoreditch, Advertising Week Social Club, Let's Be Brief, Fat Cap and De Dominicis Agency . She has also been interviewed by Art Pro Motivate, London Art Net, Trebuchet Magazine and Artsy Shark and featured on Investors Mag.
For General Enquiries and Customer Service please email info@jesterjacquesgallery.co.uk
Jester Jacques began as a gallery, exhibiting in London throughout 2013, with a Pop Up at Box Park, Shoreditch, a booth at the Other Art Fair in London and a successful inaugural exhibition in East London.
http://www.jesterjacquesart.co.uk/ http://www.facebook.com/jesterjacquesart
Jester Jacques Art joined Society6 on November 19, 2013.