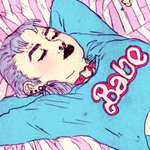 JGVillustrations
Welcome to my Society6 store! I am an illustrator based in Los Angeles. Inspired by my love of the past, Japanese illustrations, and fashion, I make narrative illustrations with a dash of fantasy, and have had one piece recognized by the Society of Illustrators LA. WEBSITE: JGVillustrations.com BLOG: facebook.com/JGVillustrations EXCLUSIVE CONTENT: Patreon.com/JGVillustrations INSTAGRAM: instagram.com/JGV ☆ Thank you! ☆ JGVillustrations joined Society6 on January 26, 2014
More
Welcome to my Society6 store!
I am an illustrator based in Los Angeles. Inspired by my love of the past, Japanese illustrations, and fashion, I make narrative illustrations with a dash of fantasy, and have had one piece recognized by the Society of Illustrators LA.
WEBSITE: JGVillustrations.com
BLOG: facebook.com/JGVillustrations
EXCLUSIVE CONTENT: Patreon.com/JGVillustrations
INSTAGRAM: instagram.com/JGV
☆ Thank you! ☆
JGVillustrations joined Society6 on January 26, 2014.