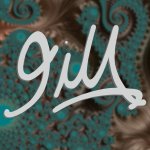 Jillian Amatt Designs
CLICK ON EACH INDIVIDUAL IMAGE TO SEE ALL PRODUCTS AVAILABLE IN THAT DESIGN!
My partner and I have sold all of our posessions and are now travelling full time.
Since leaving the rat race, I am over the moon with inspiration these days, and I love what I have been producing. Most of the 2D art that you see, has been created digitally by me, the rest is hand drawn. For digital work, I am using an iPad Pro. I use Amaziograph, Procreate, and FRAX apps.
I have always been intrigued by intricate patterns in nature, patterns that seem impossible to create. Of course, only these intricate patterns could be made by Mother Nature herself, but with this fractal program, I have found a way to get pretty darn close.
Thanks for checking out my Society 6 page. I hope you enjoy my designs, as much as I have enjoyed creating them! I also have an Etsy shop with many other items including lots of clothing at www.jillianamatt.com.
If you see a pattern that you like, but don't see the right colour, please email me at the address below. We can work together to create just the right look for your space!
If you want to see more of my creations, check out my instagram @jillianamatt, or head to my facebook page Jillian Amatt Designs.
If you have any questions, please don't hesitate to contact me at jillamatt@me.com.
To join my newsletter and get 10% off in my Etsy shop, please head to www.jillianamatt.com/landing
To check out my travel blog, head over to www.justsomewandering.wordpress.com.
Thanks!
Read more
Jillian Amatt Designs's Store
229 results
Filter