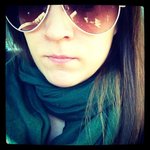 Jillian Audrey
Hi, I'm Jillian Audrey! I'm a writer, photographer, and designer. I've lived in California, New York and Arizona, and now I call Boston home. I recently graduated with my MFA in writing and when I'm not spending time photographing or crafting, you can find me typing away and drafting the next Great American Novel.
I fell in love with photography more than 15 years ago when I was first handed an old film camera. Since then, I've taken a wide variety of photography courses and workshops including darkroom, digital, commercial and alternative processes.
I love artwork, jewelry, photography, and creating works that bring out emotions in other people, especially if those emotions are unexpected.
I think there is beauty all around us, if we just look for it and appreciate the world we are in. This philosophy is reflected in my artwork -- many of my photographs are of places and things that are often overlooked in daily life but are indeed very beautiful, such as abandoned buildings, farmhouses, and old signs.
YOU CAN ALSO FIND ME: on etsy | http://www.etsy.com/shop/JillianAudreyDesigns blogging | http://jillianscreativelife.blogspot.com on twitter | http://www.twitter.com/jillianaudrey on facebook | http://www.facebook.com/JillianAudreyPhotography
Looking to contact me? Email me at JillianAudreyPhoto at Gmail.com
Read more
Jillian Audrey's Store
Filter