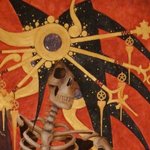 Jillian Koval
I am a painter whose work is currently focused at this time on the theme of Death, and the various personifications of him/her as I perceive them. Some of my influences and interests are Gustav Klimt, Yoshitaka Amano, Takato Yamamoto, H.R. Giger, Eiko Ishioka, Clive Barker, Japanese block printing, Art Nouveau, Art Deco, Memento Mori. http://jilliankovalart.blogspot.ca/ https://www.facebook.com/jilliankovalart Jillian Koval joined Society6 on November 27, 2014
More
I am a painter whose work is currently focused at this time on the theme of Death, and the various personifications of him/her as I perceive them. Some of my influences and interests are Gustav Klimt, Yoshitaka Amano, Takato Yamamoto, H.R. Giger, Eiko Ishioka, Clive Barker, Japanese block printing, Art Nouveau, Art Deco, Memento Mori.
http://jilliankovalart.blogspot.ca/
https://www.facebook.com/jilliankovalart
Jillian Koval joined Society6 on November 27, 2014.
Jillian Koval's Store
19 results
Filter