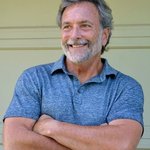 Jim McTighe
Jim McTighe's interest in art began with his drawings at age five. That interest lead him to his studies in art at East Carolina University, Parson School of Design, the Pratt Institute in New York City and the Penland School in North Carolina.
Jim has taken part in numerous intensives. One such intensive was with renowned sculptor Henry Moore and resulted in Jim having three of his own sculptures in national tours. However, the practicalities of life with a family lead Jim to put his creative energies in another direction. The result was a successful advertising career that he enjoyed for more than 25 years.
Upon retiring, Jim, his wife and youngest son moved to Mexico to do mission work with marginalized children from the streets in an orphanage in San Luis Potosi. In the fall of 2010 Jim and his family returned home to Davidson, NC.
Read more
Jim McTighe's Store
44 results
Filter