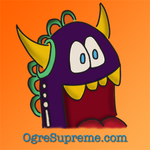 OgreSupreme
My mind is a wondrous playland filled with a mix of imagination and fantasy bordering on the verge of darkness and insanity.
I create worlds of surrealism through my visual works and words. Inspiration is derived from daily life experiences, psychedelic motifs, and manic subconscious episodes. My art generally reflects my moods from the calm and serene delving into the mysterious and macabre.
Feel free to browse my shop or drop a line. And thanks for stopping by.
Waffles & sparkles, OgreSupreme
Web Site: http://www.ogresupreme.com/ Instagram: http://instagram.com/ogresupreme Twitter: https://twitter.com/ogresupreme
NOTE: ALL ARTWORK IS ORIGINAL CREATED BY THE ARTIST, JIMMIE FISHER AKA OGRESUPREME. ABSOLUTELY NO COPIES OR REPRODUCTIONS.
Read more