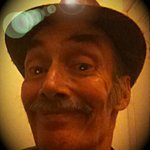 JimmyDGray
Eclectic in my own words: exploring or using a variety of things or styles from a variety of sources. An example: A collage I make from found and created objects and pictures,then I use various mediums to add to it until I'm finished. This is an eclectic piece of art.
I am an eclectic artist and I am an eclectic person. I am interested in many things in life as well as in my art. I do computer art such as fractals, drawings, animations. I do paintings, pen & ink and pencil, kinetic art (art that involves movement), collages, assemblages and recently I am exploring automata and learning how to make sculptures and art pieces that when you turn a crank or push a button then it moves and does things and maybe plays music or makes sounds. So why an eclectic artist and an ecletic person? Because it makes the world very interesting with so many things to explore and create and do. It's a solution to boredom.
My main source of art on Society6 is Fractals at this time. I may add others later. I like doing fractals using Ultra Fractal 5. I get to explore and change things, zoom in, zoom out, add layers and combine them using different settings, change formulas and play with colors. I do all this and more until I end up with something I like. Then I tweak it until it is as good as I can get at this point in my artistic journey. Then I upload and share it with others.
Read more
Shower Curtains by JimmyDGray
146 results
Filter