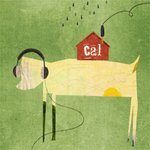 Jiong Li
Jiong is an illustrator and designer based in Los Angeles. His illustration and design work have been recognized by HOW magazine and Art Directors & Artists Club. They have been featured in various media, and exhibited in California, Utah and Korea. For more information, please visit Jiong's website at: www.jiong.com Jiong Li joined Society6 on March 1, 2014
More
Jiong is an illustrator and designer based in Los Angeles.
His illustration and design work have been recognized by HOW magazine and Art Directors & Artists Club. They have been featured in various media, and exhibited in California, Utah and Korea.
For more information, please visit Jiong's website at:
www.jiong.com
Jiong Li joined Society6 on March 1, 2014.
Jiong Li's Store
20 results
Filter