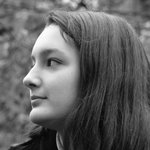 jjjdesign
Hi! My name is Margarita. I'm a designer, illustrator and a mum of a little boy. I like to draw in my free time. Love patterns! Feel free to text me or leave a comment. I'm interested to get some feedback. All artworks © JJJDesign. All rights reserved worldwide. It is unlawful to copy, edit, display, download, reproduce or redistribute copyrighted images without permission. jjjdesign joined Society6 on June 2, 2016
More
Hi! My name is Margarita. I'm a designer, illustrator and a mum of a little boy. I like to draw in my free time. Love patterns!
Feel free to text me or leave a comment. I'm interested to get some feedback.
All artworks © JJJDesign. All rights reserved worldwide. It is unlawful to copy, edit, display, download, reproduce or redistribute copyrighted images without permission.
jjjdesign joined Society6 on June 2, 2016.