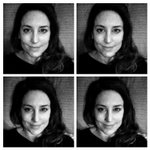 jjtmstudio
I'm a visual artist living and working in Vancouver, Canada. I'm interested in reverse engineering the digital into the analog and also trying to see contemporary, everyday visual and digital culture through a naive, alien lens.
I'm also obsessed with painting and make work that reflects on the history and reception of painting in a contemporary world.
Jennifer holds a Masters of Fine Art (with honours) from a practice-based program delivered jointly by OCA and University for the Creative Arts (UCA) in the U.K. She received her BA Classical Studies from the University of British Columbia, completed the Management Skills for Advanced Technology (MSAT) program at Simon Fraser University, and the Fine Art Techniques Certificate at Emily Carr University of Art and Design (in Vancouver). Mawby's work has been published and shown in Canada, the U.S., and the U.K.
www.jjtmstudio.com
Instagram: @jenniferjeanmawby
Read more
jjtmstudio's Store
23 results
Filter