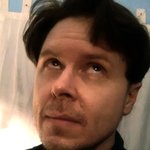 John Linton Roberson
John Linton Roberson has been an independent cartoonist, writer, and illustrator for over 25 years, and has produced 22 publications as Bottomless Studio since 1998.
He is the adapter of Frank Wedekind's Lulu, the creator of Martha, Vladrushka, and Suzy Spreadwell, among others, and the co-creator (with John E. Williams) of Uncle Cyrus. In addition he has also been published by Journey Magazine, Fantagraphics Books, Seven Stories Press and Martian Lit. He is also the editor of the anthology THIS SICKNESS.
Pages from his Lulu were exhibited in Munich's Deutsches Theatremuseum as part of their 2014 Frank Wedekind retrospective. Occasionally he is heard, usually at length, on Tim Young's Deconstructing Comics podcast.
Some of the influences on his current work include Dave Sim, Dan DeCarlo, Felicien Rops,Terry Southern, Jack Kamen, Molly Kiely, Paolo Serpieri, Emily Kaplan, Norman Lindsay, Carter Tutti and Guido Crepax.
Online you can find him at jlroberson.org.
Read more
Wall Art by John Linton Roberson
Filter