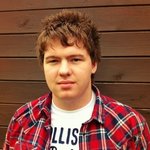 jminnsdesign
A 22 year old freelance graphic designer living and working in the North East of England. I have a strong passion for print, corporate identity and packaging. Studying a Foundation Degree in Graphic Design, graduating in June 2013 Currently working freelance at Timba Floor and Splash Print Management If you would like more information, please visit my Linkedin profile or contact me via email on; jminnsdesign@gmail.com jminnsdesign joined Society6 on September 25, 2012
More
A 22 year old freelance graphic designer living and working in the North East of England.
I have a strong passion for print, corporate identity and packaging.
Studying a Foundation Degree in Graphic Design, graduating in June 2013
Currently working freelance at Timba Floor and Splash Print Management
If you would like more information, please visit my Linkedin profile or contact me via email on; jminnsdesign@gmail.com
jminnsdesign joined Society6 on September 25, 2012.
jminnsdesign's Store
12 results
Filter