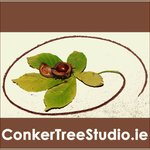 Conker Tree Studio
I specialise in the design and handcrafting of unique greeting cards, notebooks/ journals, calendars and framed wall art as well as the design of bespoke Wedding Guestbook Alternative Prints. Their uniqueness sets them apart from the usual run-of-the-mill, mass-printed products on the market. Specially shot photographs are used to adorn the paper crafts. Carefully chosen warm, earthy tones, a natural twine detail and a tiny, hand-cut recycled cardboard tag give them a charming rustic twist. Each product is lovingly created to the highest standard – a product that becomes a treasured keepsake. As an addition to what I do, I have decided to use my artwork in a more versatile way, offering more products to those who like my work. You are welcome to see my handmade items on Etsy: http://www.ConkerTreeStudio.etsy.com on my website: http://www.ConkerTreeStudio.ie and on my facebook page: http://www.facebook.com/jmmCards Conker Tree Studio joined Society6 on July 9, 2014
More
I specialise in the design and handcrafting of unique greeting cards, notebooks/ journals, calendars and framed wall art as well as the design of bespoke Wedding Guestbook Alternative Prints. Their uniqueness sets them apart from the usual run-of-the-mill, mass-printed products on the market. Specially shot photographs are used to adorn the paper crafts. Carefully chosen warm, earthy tones, a natural twine detail and a tiny, hand-cut recycled cardboard tag give them a charming rustic twist. Each product is lovingly created to the highest standard – a product that becomes a treasured keepsake.
As an addition to what I do, I have decided to use my artwork in a more versatile way, offering more products to those who like my work.
You are welcome to see my handmade items on Etsy: http://www.ConkerTreeStudio.etsy.com
on my website: http://www.ConkerTreeStudio.ie and on my facebook page: http://www.facebook.com/jmmCards
Conker Tree Studio joined Society6 on July 9, 2014.
Conker Tree Studio's Store
50 results
Filter