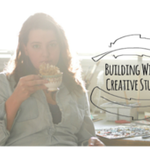 Jennifer Russell-Building Wings Studio
Jennifer Russell was born and raised in New Brunswick, Canada.She is an Intentional artist who focuses on creating meaning full connections to her work for herself and others. Nothing is more satisfying to her than hearing that her work has inspired someone in their own life. She also runs workshops for helping others to find their creative voice and to create their own meaningful connections through creativity. For more information on Jennifer and to see updates visit www.BuildingWingsStudio.com Jennifer Russell-Building Wings Studio joined Society6 on April 8, 2014
More
Jennifer Russell was born and raised in New Brunswick, Canada.She is an Intentional artist who focuses on creating meaning full connections to her work for herself and others. Nothing is more satisfying to her than hearing that her work has inspired someone in their own life. She also runs workshops for helping others to find their creative voice and to create their own meaningful connections through creativity.
For more information on Jennifer and to see updates visit www.BuildingWingsStudio.com
Jennifer Russell-Building Wings Studio joined Society6 on April 8, 2014.