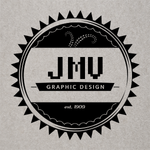 JMV Designs
We are three French students. As a hobby, we draw some stuff and create slick designs! Eventually, someone will be kind enough to buy something from us, which is great! If you want more info on what each design is, and who actually drew it, it'll be in the product description. One of our members intend to become designer later, so leave some feedback too! Some links : V: http://dessinsfantastiques.blogspot.com http://fantastic-drawings.daportfolio.com/ J: http://www.sorryjib.com M: http://shift.carbonmade.com JMV Designs joined Society6 on December 3, 2013
More
We are three French students. As a hobby, we draw some stuff and create slick designs! Eventually, someone will be kind enough to buy something from us, which is great! If you want more info on what each design is, and who actually drew it, it'll be in the product description. One of our members intend to become designer later, so leave some feedback too!
Some links :
V: http://dessinsfantastiques.blogspot.com http://fantastic-drawings.daportfolio.com/
J: http://www.sorryjib.com
M: http://shift.carbonmade.com
JMV Designs joined Society6 on December 3, 2013.