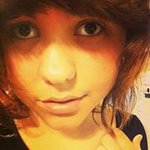 Joanna Ferrin
STATEMENT I use a deep appreciation for the beauty of unnoticed moments, thoughts and the spiritual essence, which is contained in the human life. From the simplicity of a touch, to the chaos of the emotions instilled by it, I take in life all around me to reveal its innermost workings. Considering myself an aesthete and antevasin (which is Sanskrit for, "one who lives at the border"), I live to take in all forms of beauty, and through the cerebral discharge of my mind, express them. In using various medias such as found objects, wood, cardboard, fabric, canvas, metal and clay, I gain appreciation for working with all forms. In combination with my various medias, I use illustrative techniques and styles of drawing and painting. ABOUT Joanna Ferrin is an illustration student and independent mixed media artist based in New York. Her passions include, but are not limited to collecting varied literature and music, Dr. Zhivago, cooking at 3 AM, newspapers, quotes by dead people, traveling, road trips and singing jazz inside Richard Serra's Torqued Ellipses. Joanna Ferrin joined Society6 on May 29, 2013
More
STATEMENT
I use a deep appreciation for the beauty of unnoticed moments, thoughts and the spiritual essence, which is contained in the human life. From the simplicity of a touch, to the chaos of the emotions instilled by it, I take in life all around me to reveal its innermost workings. Considering myself an aesthete and antevasin (which is Sanskrit for, "one who lives at the border"), I live to take in all forms of beauty, and through the cerebral discharge of my mind, express them. In using various medias such as found objects, wood, cardboard, fabric, canvas, metal and clay, I gain appreciation for working with all forms. In combination with my various medias, I use illustrative techniques and styles of drawing and painting.
ABOUT
Joanna Ferrin is an illustration student and independent mixed media artist based in New York. Her passions include, but are not limited to collecting varied literature and music, Dr. Zhivago, cooking at 3 AM, newspapers, quotes by dead people, traveling, road trips and singing jazz inside Richard Serra's Torqued Ellipses.
Joanna Ferrin joined Society6 on May 29, 2013.
Joanna Ferrin's Store
11 results
Filter