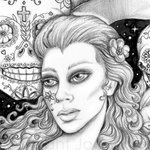 JoannaScott
Joanna has worked as an artist and illustrator for some twenty years, with works published across the gift ware industry. She has also recently moved into publishing with several children's books underway.
Her other work consists of site specific installation using lantern and light creations in collaboration with film and sound practitioners.
Joanna is always interested in new commission opportunities so please do contact her with any requests.
Website http://www.joanna-scott.co.uk
Facebook Art Page https://www.facebook.com/JoannaScottArts
Read more
JoannaScott's Store
Filter