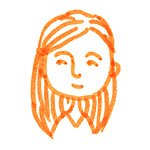 Joanna Wiejak
Hello there! I'm a Polish-French illustrator currently living in South West France. I love short stories, quirky caracters, funny and simple shapes, cheerful and bright colors. To see more or follow my work: website: http://www.yoyos-place.com/ blog: http://joannawiejak.blogspot.fr/ facebook: https://www.facebook.com/j.wiejak/ tumblr: http://joanna-wiejak-illustrations.tumblr.com/ instagram: https://www.instagram.com/joanna_wiejak_illustrations/ behance: https://www.behance.net/JoannaWiejak And if you wish to take a look at my handmade screen prints and original illustrations: etsy: https://www.etsy.com/fr/shop/JoannaWiejak Joanna Wiejak joined Society6 on April 5, 2014
More
Hello there! I'm a Polish-French illustrator currently living in South West France. I love short stories, quirky caracters, funny and simple shapes, cheerful and bright colors.
To see more or follow my work:
website: http://www.yoyos-place.com/ blog: http://joannawiejak.blogspot.fr/ facebook: https://www.facebook.com/j.wiejak/ tumblr: http://joanna-wiejak-illustrations.tumblr.com/ instagram: https://www.instagram.com/joanna_wiejak_illustrations/ behance: https://www.behance.net/JoannaWiejak
And if you wish to take a look at my handmade screen prints and original illustrations:
etsy: https://www.etsy.com/fr/shop/JoannaWiejak
Joanna Wiejak joined Society6 on April 5, 2014.