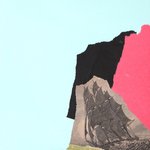 joanngoodmanart
My work allows me an undertone in a quite moment. A tiny easement into a larger visual dialogue that exists within a given physical space...the weight a line carries, when color consults imagery, when balance is achieved in new form.
I am a collector of visual artifacts, both past and present. These relics include: photographs, paper scraps from old books and magazines, cardboard, textiles, weathered wood, and metal.
These "found objects" often lost and discarded, tell a story beyond their material history. They evoke feelings of nostalgia. What does the sum of elements suggest to us? What is hidden and what is seen? My intent is to recognize these moments of sensitivity and elevate them. To encounter and absorb, stretching time as long as possible...creating a visual postponement.
Read more
Canvas by joanngoodmanart
Filter
Canvas by joanngoodmanart