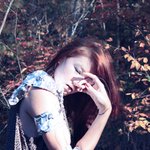 jocelyn meadows
This creative movement is fermented and deciphered by Jocelyn Meadows, a writer and photographer residing in Virgina, usa. If there is anything you do not see here that you would like printed, let me know via | jocelynmeadows.media@gmail.com | ...and we can easily work some jazz out. jocelyn meadows joined Society6 on July 5, 2011
More
This creative movement is fermented and deciphered by Jocelyn Meadows, a writer and photographer residing in Virgina, usa.
If there is anything you do not see here that you would like printed, let me know via | jocelynmeadows.media@gmail.com |
...and we can easily work some jazz out.
jocelyn meadows joined Society6 on July 5, 2011.