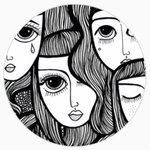 Jody Pham
About Jody Pham
Inspired by the natural and physiological world around her, Jody Pham's fascination with the intricacies of seemingly everyday things began at a very young age. Her distinctively monochromatic illustrations are filled with contradicting clean lines, tangled flora, and inky disarray that invite the viewer to take a closer look. She finds the transformative, resilient disposition of nature beautiful and endlessly inspiring. Jody's compositions often reflect her bicultural identity, and the experience of navigating dual worlds.
Other places you can find me:
www.jodypham.com
www.instagram.com
/jodyphamdraws
Buy my new collaborative book!
https://www.amazon.com/Art-Fashion-Ta...1633220702
Jody Pham joined Society6 on August 26, 2010.