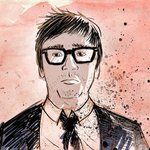 Joe Badon
Joe Badon is a freelance comic book artist. He resides with his wife and two kids in Slidell, Louisiana. He has been working as a full time freelance illustrator since 2009. He has worked on projects for Assailant Comics, devhub.com, Sore Thumb Press, Red Moon Comics, Candy or Medicine Comix, Flying Tiger Comics, Silber Media, Red Leaf Comics, Vein Armor Publishing, Amish Drive-by Presents, and on many other commercial and private commissions. He is always available for commission work. You can check out his portfolio at: joebadon.blogspot.com Joe Badon joined Society6 on May 24, 2014
More
Joe Badon is a freelance comic book artist. He resides with his wife and two kids in Slidell, Louisiana.
He has been working as a full time freelance illustrator since 2009. He has worked on projects for Assailant Comics, devhub.com, Sore Thumb Press, Red Moon Comics, Candy or Medicine Comix, Flying Tiger Comics, Silber Media, Red Leaf Comics, Vein Armor Publishing, Amish Drive-by Presents, and on many other commercial and private commissions. He is always available for commission work. You can check out his portfolio at: joebadon.blogspot.com
Joe Badon joined Society6 on May 24, 2014.