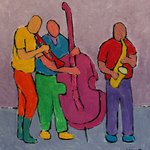 Joe Esposito
Another world always existed within me. It is a magical, mystical place where almost anything is possible. Children know this world well. Unfortunately, as we grow up, reality slams shut the gates to this sacred place. This world remained alive in me and it grew into an incredible inner kingdom. A great need to create developed. Over time, I learned to bring this world to life with paint. I am a self-taught artist. I did not have formal training but I was fortunate enough to work with a few talented artists along the way. They taught me the fundamentals but most importantly, they opened my eyes to the fact that my art is my purpose in this life. When that happened, an intense fire ignited in my soul. German Expressionism had a profound influence on me. Their ability to express powerful emotions with paint touched me in a deep way. My aim is to bring my own truth to life in a pure and authentic way. I want my work to inspire and heal. I am trying to create art that will shine a ray of light into a dark, desolate world. If I am able to bring a sense of hope into someones world with paint, then I believe that I am doing something worthwhile with my life. My hope is that somehow the light that I put into the world will one day shine back on my own soul. This has to do with personal redemption. Brushes and paints are my instruments; they are connected to my heart, soul and spirit. I believe balance is crucial in life. When something is out of balance, it will never be right and it will eventually fall apart. I remain focused on the big picture and overall design. I am not interested in reproducing images in a realistic way. I work with basic shapes and a black line usually outlines the images. The quality of the line is important because it brings strength to the work and holds everything together. Intense, bright colors bring my art to life. When I paint, it is similar to a musician improvising. One brush stroke leads to the next, one shape leads to the next, one color leads to the next in the same way that one note will lead to the next. When this is happening, I believe that my inner world is connected to something that exists far beyond this world. My ability to create on this level is a gift. I am committed to take my art as far as I possibly can in my lifetime. If I am able to do this, I will have given something back in return for the talent that I have been given. I am not the one who will be the judge of what I did with my art. Ultimately, God or whoever is running this big circus will be the final judge of my work. Art is not just something that you do. It is something that you are. My art is in many private and corporate collections in the United States and other countries. Recently, The Museum of Contemporary Art of Bahia, San Salvador, Brazil included one of my paintings into their permanent collection. Currently, I am working and selling my work out of my own studio. Recent Interview: The Artists Table Website Link: https://sites.google.com/a/artisttableonline.com/www/spotlight/joeesposito Article in The New York Optimist Website Link: http://www.thenewyorkoptimist.com/RegianePresentsJoeEspositoAug7_2011.html Facebook Website Link: https://www.facebook.com/joe.esposito.750 Art Galaxie http://www.artgalaxie.com/index.php/joe-esposito Joe Esposito joined Society6 on November 17, 2013
More
Another world always existed within me. It is a magical, mystical place where almost anything is possible. Children know this world well. Unfortunately, as we grow up, reality slams shut the gates to this sacred place. This world remained alive in me and it grew into an incredible inner kingdom. A great need to create developed. Over time, I learned to bring this world to life with paint. I am a self-taught artist. I did not have formal training but I was fortunate enough to work with a few talented artists along the way. They taught me the fundamentals but most importantly, they opened my eyes to the fact that my art is my purpose in this life. When that happened, an intense fire ignited in my soul. German Expressionism had a profound influence on me. Their ability to express powerful emotions with paint touched me in a deep way. My aim is to bring my own truth to life in a pure and authentic way. I want my work to inspire and heal. I am trying to create art that will shine a ray of light into a dark, desolate world. If I am able to bring a sense of hope into someones world with paint, then I believe that I am doing something worthwhile with my life. My hope is that somehow the light that I put into the world will one day shine back on my own soul. This has to do with personal redemption. Brushes and paints are my instruments; they are connected to my heart, soul and spirit. I believe balance is crucial in life. When something is out of balance, it will never be right and it will eventually fall apart. I remain focused on the big picture and overall design. I am not interested in reproducing images in a realistic way. I work with basic shapes and a black line usually outlines the images. The quality of the line is important because it brings strength to the work and holds everything together. Intense, bright colors bring my art to life. When I paint, it is similar to a musician improvising. One brush stroke leads to the next, one shape leads to the next, one color leads to the next in the same way that one note will lead to the next. When this is happening, I believe that my inner world is connected to something that exists far beyond this world. My ability to create on this level is a gift. I am committed to take my art as far as I possibly can in my lifetime. If I am able to do this, I will have given something back in return for the talent that I have been given. I am not the one who will be the judge of what I did with my art. Ultimately, God or whoever is running this big circus will be the final judge of my work. Art is not just something that you do. It is something that you are.
My art is in many private and corporate collections in the United States and other countries. Recently, The Museum of Contemporary Art of Bahia, San Salvador, Brazil included one of my paintings into their permanent collection. Currently, I am working and selling my work out of my own studio.
Recent Interview: The Artists Table Website Link: https://sites.google.com/a/artisttableonline.com/www/spotlight/joeesposito
Article in The New York Optimist Website Link: http://www.thenewyorkoptimist.com/RegianePresentsJoeEspositoAug7_2011.html
Facebook Website Link: https://www.facebook.com/joe.esposito.750
Art Galaxie http://www.artgalaxie.com/index.php/joe-esposito
Joe Esposito joined Society6 on November 17, 2013.
Joe Esposito's Store
257 results
Filter