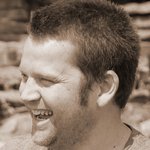 Joel_Hughes
I cut my teeth with photography with Pentax P35s (and still have a few of these heavy, metal beasts) as well a Nikon F80. However, more often than not nowadays, I'll take a shot (and edit it) with my iPhone 4 - but I'll occasionally wheel out my dazzler of a Canon 550D.
The things that catch my eye include: decay, rust, pattern, texture, people & shapes.
In my day job I run www.jojet.com (an Internet Strategy company) and you can find me on Twitter as @Joel_Hughes.
Read more
Joel_Hughes's Store
Filter