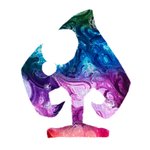 The Psychedelic Space
This Psychedelic Space is home to the alien organica environments of Joe Phillips.
Creations and playgrounds of the subconscious, these pieces began as exercises into no-mind creating and have become luminous worlds in which to get lost.
Each one is an artifact of the artist's direct connection to the Creative Source that we all share. With the artist witnessing, as though a bystander, cavernous space unfolds harmoniously. It pays tribute to the shape of the canvas and the anticipation and anxiety of the first bold strokes. Dive in.
Thank you for visiting this next chapter in the Psychedelic Space story as we take these textures and patterns out into the physical world. Wear or display a vibrant defiance against this separated grey world, with something luminous that speaks of our connectedness.
Read more
The Psychedelic Space's Store
Filter
The Psychedelic Space's Store