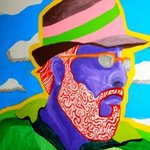 johnatan machado
JOHNATAN MACHADO TEPPER CURRICULUM VITAE
DATOS PERSONALES: Lugar y fecha de nacimiento: Caracas,Venezuela, 30/09/79.
Móvil: 58 424 224 16 48 Dirección actual: Caracas, Venezuela. E mail: johnamacha77@gmail.com
OBJETIVO: Arte público y fotografía.
Curador de exposiciones de arte en espacios establecidos (museos, galerías, etc.)
Asesoría para la creación de proyectos culturales que involucren activamente a la comunidad.
Gestión y creación de exposiciones de arte en espacios públicos y no convencionales.
Asesoría en fotografía para la creación de folletos y catálogos de arte.
EXPERIENCIA PROFESIONAL
Miembro fundador de la Asociación Espacio Colectivo de Valencia, creada en 2009, en Valencia España.
Director y curador de la Galería Espacio, especializada en arte contemporáneo. Valencia, España. 2009-10.
Artista plástico con experiencia internacional. (U.S.A, España, Puerto Rico y Venezuela) desde 2003 hasta la actualidad.
Asistente en el taller de pintura en la Universidad Armando Reverón, Caracas, Venezuela. 2006-07. •-Fotógrafo profesional de danza, ballet y teatro. Caracas, Venezuela. 2001-2011.
Fotógrafo de la revista Plátano verde, revista cultural y de arte. 2002-03.
CURADURÍA Y DIRECCIÓN DE LAS SIGUIENTES EXPOSICIONES:
15 Apr 10 "10 Years of Art of Italian Vice". Collective 19 Feb 10 "Cosmic Misteries / Misterios del cosmos". Collective from London 29 Jan 10 "Collective Invited Artists". Collective 08 Jan 10 "Flash Back". Kamila Kudziela. Solo show. 11 Dec 09 "Workshop Artists". Collective 17 Nov 09 "Terrein Vague, Aproximaciones al Interiorismo". Ramón Serrano 23 Oct 09 "Visiones del anhelo/Vision of Longing". Collective from London 25 Sep 09 "Corps Mecaniques". Salomé Ortega. Solo show. 01 Aug 09 "Dos visiones de la infancia. Juan Ramón y Roberto Asenci . 11 Jun 09 "Lo que Cuenta(s)"1. Collective.
ESTUDIOS REALIZADOS 2008-10 Máster en Producción Artística, especialización en arte Público, Universidad Politécnica de Valencia, España. Dic 2007 Licenciado en artes plásticas, Universidad Armando Reverón, mención pintura. Maestros: Octavio Russo, Teresa Gabaldón, Luís Lizardo. May 2001 Estudios fotográficos de especialización en foto-naturaleza y documental, por el C.O.N.A.C., Río Caribe, Edo. Sucre. Fotógrafo: Jorge Provenza.
1999-01 Centro de fotografía Imago-Mundi, especializaciones en fotografía de luz escasa, iluminación y retrato. Maestros: Henrry Rodner, Ana Maria Yanes y José C. Gómez. 1999 Pro-Diseño, introducción al diseño grafico. 1998-99 Estudios de ingles, Comunity College, Barbados.
EXPOSICIONES INDIVIDUALES Mar 2010 "Tramas 35mm", Galeria Espacio, Valencia, España. Nov 2009 "Reciclados", Galeria Bortot, Caracas, Venezuela. Ago 2005 "Tramas espaciales", pintura, Rest. Galería Pastas Patri, Caracas, Venezuela. Jul 2003 "aTEMPOral", fotos de ballet, Teatro Nacional, Caracas, Venezuela. Nov 2001 "Mis primeras Pinturas", espacios CoCreación, Caracas, Venezuela.
RECONOCIMIENTOS May 2008 Primer premio XII Bienal Alejandro Otero. San Antonio de los Altos, Edo. Miranda, Venezuela.
SALONES Y EXPOSICIONES COLECTIVAS Nov 2013 Andy Risquez y Johnatan Machado. White´s Art Gallery, Miami, USA Oct 2012 1era Bienal de Arte Cinético, Museo de Arte Contemporáneo de Caracas, Venezuela Ene 2011 Metamorfosis, Espai de creaciò, Barcelona, España. Oct 2010 65. Bienal Arturo Michelena, Edo. Carabobo, Venezuela. Oct 2010 Colectiva "ColectCollage", Galería Estudioarte 8, Caracas Venezuela. Dic 2009 Colectiva miembros de la Asociacion Espacio Colectivo de Valencia, Galeria Espacio, Valencia, España.
Nov 2009 V Bienal de Maracaibo, Museo Lía Bermudez, Maracibo, Venezuela.
Ene 2009 Exposición Colectiva Pintores Noveles Galerías Fivars París-MontePego, Alicante, España.
Jun 2009 Colectiva, "Lo que cuenta(s)", Galería Espacio, Valencia, España. Abr 2009 Colectiva, Galería Colores Marcianos, Madrid, España. Oct 2008 Exposición y subasta, Reembolso a la vida, fundación Senos ayuda, Corp Group, Caracas, Venezuela. Oct 2008 XXXIII salón nacional Aragua, Museo contemporáneo Mario Abreu, Maracay, Venezuela. Sep 2008 III Salón de jóvenes con la FIAAM, Centro de Bellas Artes, Ateneo de Maracaibo, Venezuela. Ago 2008 XXV Salón Juan Lovera, municipal de Caracas, Banco Industrial de Venezuela, Caracas, Venezuela. Jun 2008 Exposición "Aquí estamos", fundación paso a paso, Ciudad Banesco, Caracas, Venezuela. May 2008 III Salón del rostro, Ateneo del Hatillo, Caracas, Venezuela. May 2008 XII Salón Alejandro Otero, San Antonio de los Altos, Edo. Miranda, Venezuela. Abr 2008 Tránsito y memoria, Museo Jacobo Borges, Caracas, Venezuela. Mar 2008 Velada de Santa Lucia, encuentro internacional de arte, con Oficina #1, Maracaibo, Venezuela. Nov 2007 XXXII salón nacional Aragua, museo contemporáneo Mario Abreu, Maracay, Venezuela. Oct 2007 Espacio ¨Unexus¨, I.U.E.S.A.P.A.R, "Procesos múltiples 3", collage. Caracas, Venezuela. Jun 2007 Colectiva, Periférico Caracas, "Desconfía" Ofic. #1, Caracas, Venezuela. Jun 2007 X salón CANTV jóvenes con FIA, centro Corp Group, Caracas, Venezuela. May 2007 II Salón del rostro, Ateneo del Hatillo, Caracas, Venezuela. Dic 2006 Venta de Arte. Periférico Caracas, Ofic. #1, Caracas, Venezuela. Sep 2006 Colectiva, A.T Hunt Gallerie, Savannah, Georgia, U.S.A. Jun 2006 I exposición de Arte Contemporáneo a Beneficio Colegios Mano Amiga, Caracas, Venezuela.
May 2006 Exposición "Ambulante", museo Jacobo Borges, Caracas, Venezuela. Ene 2006 XI Salón Alejandro Otero, San Antonio de los Altos, Edo. Miranda, Venezuela. Nov 2005 Espacios ¨Unos¨, I.U.E.S.A.P.A.R , "Leve", collage "Capsulas temporales", Caracas, Venezuela. May 2005 III Salón de Arte Nacional AVAP Guárico, Museo de la Ciudad, Calabozo, Guárico, Venezuela. Abr 2005 II mega exposición, Museo de Bellas Artes de Caracas, Venezuela. Abr 2004 I salón Nescafe de fotografía, Centro Cultural Trasnocho y en Ávila Mágica, Caracas, Venezuela
Read more
johnatan machado's Store
72 results
Filter