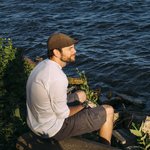 John Bates
Hello friends, and brothers and sisters alike! My name is John Bates and I'm an artist from all medias. Currently it's Watercolor, as you can see from the art that's listed. I became aware of this website a few short months ago just around the time I was planning my trip. ALL of the money that I earn here will be put towards the funding of my volunteer work coming up. In December, I plan on joining the organization called International Volunteer Headquarters to do volunteer work in Costa Rica. You can learn more at www.gofundme.com/CostaRicaJourney. This website and the link listed are helping reach my goal so I can take this amazing experience and help the families and community of Costa Rica. Thanks for visiting my profile! Hope you like my art! *All original art prints are a mixture of watercolor and colored ink. John Bates joined Society6 on August 7, 2014
More
Hello friends, and brothers and sisters alike! My name is John Bates and I'm an artist from all medias. Currently it's Watercolor, as you can see from the art that's listed. I became aware of this website a few short months ago just around the time I was planning my trip.
ALL of the money that I earn here will be put towards the funding of my volunteer work coming up. In December, I plan on joining the organization called International Volunteer Headquarters to do volunteer work in Costa Rica. You can learn more at www.gofundme.com/CostaRicaJourney. This website and the link listed are helping reach my goal so I can take this amazing experience and help the families and community of Costa Rica. Thanks for visiting my profile! Hope you like my art! *All original art prints are a mixture of watercolor and colored ink.
John Bates joined Society6 on August 7, 2014.