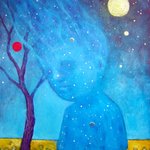 John Jorgenson
go to johnjorgensonart.com for more info John defines form with an expert use of color to bring creatures of fancy to life. Birds and monsters coexist in stacked San Fran flats. His owls send you to a story book and tree house towns put you in Ewok territory. One small work, "Minotaur Matador," I mistook for a Goya with it's tongue in cheek subject matter. A bull dressed as a bull fighter practices waving a red cape in front of a full length mirror. The limited color palette and fluid brush strokes adds to the charm of peeking in on the young bulls curiosity. What gets me most is the sub text in his paintings- a moment in progress, a social cue- that can only be recorded by an artist who observes the world and puts it down on canvas with his own twist. A long clawed creature holds up a mirror for a dark haired lady while jewels and flowers pour out of the top drawer to cover her like a gown. The play of sinister, sensual and innocent inhabit the canvas harmoniously, making one wonder what fairy tale this is from. Whatever the case, she doesn't seem to be alarmed in the least. Pretty normal day for a John Jorgenson creation. John is a very stoic man, reserved but with a biting wit if you catch it the first time. To see his paintings makes you do a double take- wondering where this circus of colorful creatures resides in his brain. It is the wit that gives a glimpse behind the curtain. Primarily a self taught artist, John is already a man of the world at the age of 31. Starting out in North Carolina, his family relocated to Sandwich, MA, where the small town/ocean proximity fostered the Jorgenson creative spirit through his teen years. What is one expected to do when their imagination is larger than the town they inhabit? He then worked and exhibited in Boston before jet setting off to San Francisco- where influence on his work can be seen in stacked skyscrapers and bridges. He currently resides in rural Maryland painting at his studio/ gallery, pumping out work and selling 'em like hotcakes (or is it crab cakes?) at open studio shows and displaying work in various locations. His future plans are to keep painting, travel to influence his work, and draw everyday to record the plethora of ideas that come pouring out of his skull. -Andrea Newland http://andreanewland.com/ John Jorgenson joined Society6 on June 26, 2012
More
                                           go to johnjorgensonart.com for more info

John defines form with an expert use of color to bring creatures of fancy to life. Birds and monsters coexist in stacked San Fran flats. His owls send you to a story book and tree house towns put you in Ewok territory. One small work, "Minotaur Matador," I mistook for a Goya with it's tongue in cheek subject matter. A bull dressed as a bull fighter practices waving a red cape in front of a full length mirror. The limited color palette and fluid brush strokes adds to the charm of peeking in on the young bulls curiosity. What gets me most is the sub text in his paintings- a moment in progress, a social cue- that can only be recorded by an artist who observes the world and puts it down on canvas with his own twist.
 A long clawed creature holds up a mirror for a dark haired lady while jewels and flowers pour out of the top drawer to cover her like a gown. The play of sinister, sensual and innocent inhabit the canvas harmoniously, making one wonder what fairy tale this is from. Whatever the case, she doesn't seem to be alarmed in the least. Pretty normal day for a John Jorgenson creation.

John is a very stoic man, reserved but with a biting wit if you catch it the first time. To see his paintings makes you do a double take- wondering where this circus of colorful creatures resides in his brain. It is the wit that gives a glimpse behind the curtain.
  Primarily a self taught artist, John is already a man of the world at the age of 31. Starting out in North Carolina, his family relocated to Sandwich, MA, where the small town/ocean proximity fostered the Jorgenson creative spirit through his teen years. What is one expected to do when their imagination is larger than the town they inhabit? He then worked and exhibited in Boston before jet setting off to San Francisco- where influence on his work can be seen in stacked skyscrapers and bridges. He currently resides in rural Maryland painting at his studio/ gallery, pumping out work and selling 'em like hotcakes (or is it crab cakes?) at open studio shows and displaying work in various locations.
  
His future plans are to keep painting, travel to influence his work, and draw everyday to record the plethora of ideas that come pouring out of his skull.

-Andrea Newland http://andreanewland.com/
John Jorgenson joined Society6 on June 26, 2012.