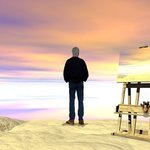 John Pangia
I've been drawing things, painting things, taking pictures of things, for as long as I can remember, and when software companies first started developing 3D and paint programs back in the early 90's I couldn't get into them fast enough. Through the editor of an online magazine called Designer Today I had the opportunity to beta test and write reviews on a number of them, and though technology has progressed to the point that entire motion pictures can now be produced digitally, I still use some of those old programs on a daily basis. Artwork by John Pangia has been published in: Corel DTP - Images Magazine - Media Link - PhotoResource Magazine - The Artists Exchange - PC Presentations - The Internet Eye Magazine - Digital Producer Magazine - Right Hemisphere - Deep Paint and featured by: NetSurfer Digest - The Artists of the Web - The World Arts Association - Fine Arts at the Mining Company - The Artists of New Jersey - Electronic Publishing Magazine - Art & Technology - and MOCA (Museum of Computer Art). John Pangia joined Society6 on June 1, 2013
More
I've been drawing things, painting things, taking pictures of things, for as long as I can remember, and when software companies first started developing 3D and paint programs back in the early 90's I couldn't get into them fast enough. Through the editor of an online magazine called Designer Today I had the opportunity to beta test and write reviews on a number of them, and though technology has progressed to the point that entire motion pictures can now be produced digitally, I still use some of those old programs on a daily basis.
Artwork by John Pangia has been published in: Corel DTP - Images Magazine - Media Link - PhotoResource Magazine - The Artists Exchange - PC Presentations - The Internet Eye Magazine - Digital Producer Magazine - Right Hemisphere - Deep Paint and featured by: NetSurfer Digest - The Artists of the Web - The World Arts Association - Fine Arts at the Mining Company - The Artists of New Jersey - Electronic Publishing Magazine - Art & Technology - and MOCA (Museum of Computer Art).
John Pangia joined Society6 on June 1, 2013.
John Pangia's Store
188 results
Filter