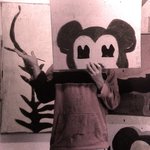 whonelson.com
William Blake said that we should "see a world in a grain of sand, and see heaven in a wild flower, hold infinity in the palm of your hand, and eternity in an hour." What he's saying, to my way of thinking, is that just getting by is not enough. One must have wonder, freedom, and a little passion. That's very sexy, don't you think? whonelson.com joined Society6 on July 28, 2014
More
William Blake said that we should "see a world in a grain of sand, and see heaven in a wild flower, hold infinity in the palm of your hand, and eternity in an hour." What he's saying, to my way of thinking, is that just getting by is not enough. One must have wonder, freedom, and a little passion.
That's very sexy, don't you think?
whonelson.com joined Society6 on July 28, 2014.