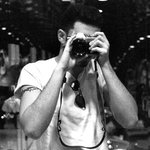 John W. DeFeo
Formerly a starving artist in Queens. Now a moonlighting artist in Brooklyn. I graduated with a B.F.A. from NYU and was welcomed into the professional world with $100,000+ in debt and a $400 a week salary. I made some of my best art in those tough times (often choosing between a meal or another roll of film), and the artwork from that era in my life is most of what you'll see here. I've worked as both a photographer and a graphic designer, but I've always thought of myself as a better photographer. (In-camera special effects are one my favorite past-times.) I hope you enjoy my work as much as I enjoy making it. John W. DeFeo joined Society6 on November 29, 2015
More
Formerly a starving artist in Queens. Now a moonlighting artist in Brooklyn. I graduated with a B.F.A. from NYU and was welcomed into the professional world with $100,000+ in debt and a $400 a week salary. I made some of my best art in those tough times (often choosing between a meal or another roll of film), and the artwork from that era in my life is most of what you'll see here.
I've worked as both a photographer and a graphic designer, but I've always thought of myself as a better photographer. (In-camera special effects are one my favorite past-times.) I hope you enjoy my work as much as I enjoy making it.
John W. DeFeo joined Society6 on November 29, 2015.