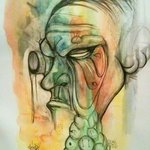 Jonathan Idler
My vision is immeasurable from what I'm told from some people. I try to create from everything around me, every line that I make leads me into a new vision creating an array of twisted, beautiful and outrages distortions of characters and backgrounds from a blank canvas. When I am creating my characters it is like letting my imagination plummet down the rabbit hole into a world that only exists in me. They can come out very real or almost as an explosion of imagination focusing on the face of the particular character that I am creating. I am constantly drawing and if I don't have my sketchbook I find ways to draw, on cardboard, placemats, newsprint and loose paper and so on. When developing them they turn into more in-depth ideas and detailed images when I'm finished. PAST SHOWS Horton art gallery 1998 Philadelphia April contest winner 2009 spaceelephant.com Fox Gallery February 1st to the 14th 2010 Zumiez Hat Design contest 2010 Feb.13th 3rd place APW Gallery NYC 03-05-2010 Just Stick it Project The Art Factor City Art Philadelphia 07-10-2010 Published article "POPAGANDA THE ART AND CRIMES OF RON ENGLISH" in "THE INFAMOUS" July 2010 Featured Artist June 2010 @ www.obsessedartist.com Fox Gallery Jan 20th to Feb 10th 2011 Phool's paradise -art show- Friday, April 1st 2011 A Celebration of Art and Life 9-23-2010 to 2011 A Celebration of Art and life 2-16-2012 to 2013 UPCOMMING EVENT G-lounge Philadelphia, pa. Raw Artist April 5th Jonathan Idler joined Society6 on February 16, 2012
More
My vision is immeasurable from what I'm told from some people. I try to create from everything around me, every line that I make leads me into a new vision creating an array of twisted, beautiful and outrages distortions of characters and backgrounds from a blank canvas. When I am creating my characters it is like letting my imagination plummet down the rabbit hole into a world that only exists in me. They can come out very real or almost as an explosion of imagination focusing on the face of the particular character that I am creating. I am constantly drawing and if I don't have my sketchbook I find ways to draw, on cardboard, placemats, newsprint and loose paper and so on. When developing them they turn into more in-depth ideas and detailed images when I'm finished.
PAST SHOWS
Horton art gallery 1998 Philadelphia
April contest winner 2009 spaceelephant.com
Fox Gallery February 1st to the 14th 2010
Zumiez Hat Design contest 2010 Feb.13th 3rd place
APW Gallery NYC 03-05-2010 Just Stick it Project
The Art Factor City Art Philadelphia 07-10-2010
Published article "POPAGANDA THE ART AND CRIMES OF RON ENGLISH" in "THE INFAMOUS" July 2010
Featured Artist June 2010 @ www.obsessedartist.com
Fox Gallery Jan 20th to Feb 10th 2011
Phool's paradise -art show- Friday, April 1st 2011
A Celebration of Art and Life 9-23-2010 to 2011
A Celebration of Art and life 2-16-2012 to 2013
UPCOMMING EVENT
G-lounge Philadelphia, pa. Raw Artist April 5th
Jonathan Idler joined Society6 on February 16, 2012.
Popular+cards by Jonathan Idler
0 result
Filter