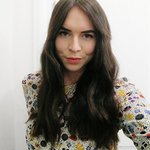 Jonie
Johanna Björklund, a 26 years old creator in Stockholm, Sweden. For living I work full time as a Graphic Designer. In my spare time I create computer art and illustrations. Contact: johanna.m.bjorklund@hotmail.com "My ultimate goal as an illustrator is to draw a black square on a white background, which will make people laugh thunderously, just because in this particular context it is the perfect, witty and ultimate solution" - Christoph Niemann Jonie joined Society6 on September 21, 2013
More
Johanna Björklund, a 26 years old creator in Stockholm, Sweden. For living I work full time as a Graphic Designer. In my spare time I create computer art and illustrations.
Contact: johanna.m.bjorklund@hotmail.com
"My ultimate goal as an illustrator is to draw a black square on a white background, which will make people laugh thunderously, just because in this particular context it is the perfect, witty and ultimate solution" - Christoph Niemann
Jonie joined Society6 on September 21, 2013.
Jonie's Store
16 results
Filter